The indispensable transparency-in-government group Energy Policy Advocates has provided GAO a review of record productions from FOIA litigation with the Securities & Exchange Commission, including specifically from calendars of Chairman Gary Gensler and then-Commissioner Allison Herren Lee.
Between the near-obsession with advancing the "ESG" and "Climate Risk Disclosure" agenda which these reveal, and emerging information about an apparent revolving door example that's ostentatious even by Washington standards, GAO feels bold to say that an inquiry into the Securities & Exchange Commission's seemingly disproportionate focus on CRD and ESG, and its execution of this agenda, is warranted.
Factors includes:
Calendars for Chairman Gary Gensler and then-Commissioner Allison Herren Lee show a disproportionate investment of time and attention to CRD and ESG, troubling on its face but of course also arguably evincing Commission leadership's distraction from emerging, major financial market problems (e.g., FTX/Alameda)
These are not the publicly available calendars, but calendars that Energy Policy Advocates had to sue to obtain. These often contain details scrubbed from the public versions
SEC heavily redacted these calendars, which is the subject of continuing litigation. Also, thanks to the same group, soon the SEC will have to produce the Biden transition-team plan, related records and all Biden campaign communications over a relevant period of time (re possible evidence of politicization)
Notably, the principal financier of the CRD/ESG advocacy campaign is a foreign "ESG investor", Sir Christopher Hohn. As a GAO paper this past summer showed, Hohn has very close ties to Chinese officials but, more concerning still, also is concurrently financing the complementary "climate litigation" campaign, with tens of millions of dollars (despite denials of involvement in the U.S. climate litigation, records trace funds run through an opaque group in the Netherlands)
The SEC's position is that it must impose ESG, e.g., the CRD rule, because investors demand it. This is true so far as it goes (see Hohn, Christopher, BlackRock, et al.), if not as the SEC implies. For more detail, see GAO's comments here. Yet, given information developed over years of open records pursuits which leaves no doubt about CRD's political and activist origins (led by New York AG's Office, Ceres, BlackRock, and the obligatory Rockefeller interest), and pre-rule, high-level (Gensler) coordination with the Biden White House Climate Office, this claim seems pretextual
Calendars indicate that that coordination with the White House began in May and June 2021 at the Gensler level, carried on by his staff in September and December 2021
And now we have an apparent revolving door example that is ostentatious even by Washington standards
Regarding the latter, raising possible conflicts and undue influence issues re the climate risk disclosure rule, "Kristina Wyatt left the SEC [in February 2022] to join Persefoni, a climate management and accounting platform, as its deputy general counsel and senior vice president for global regulatory climate disclosure. Wyatt was serving as senior counsel for climate and ESG to the director of the Division of Corporation Finance at the SEC — she is steeped in the processes and decision-making that has underpinned this proposed ruling."
The CRD rule public comment docket shows that Persefoni, a little-known but well-funded startup, held a disproportionate number of meetings with SEC staff compared to other advocates. It seems most likely that Persefoni was pushing its methodology for claiming the climate rule's cost, given that the SEC has been unable to provide any methodology or citation for its lowballed cost of compliance estimate for CRD, and the only figure that comes close to the SEC's comes from a survey jointly commissioned by Ceres, ERM and Persefoni.
The sheer volume of senior staff time dedicated to this issue, including canoodling with activists, is troubling. That this is all in pursuit of a political agenda item demanded by investors, yes — ideologically activist investors, including obvious rent-seekers — is another story entirely.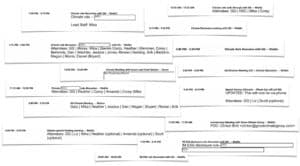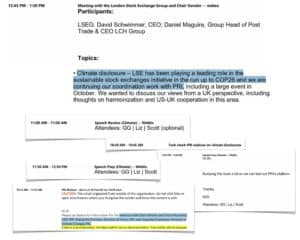 Each of these AHL items is distinct, btw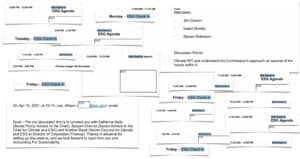 Energy Policy Advocates' FOIA litigation with SEC continues on several fronts — one matter has revealed a four-alarm fire at the Biden White House when SEC passed along a FOIA request for correspondence between the two, "Importance: High", to which the White House replied, "Has this production been flagged for OMB, CEQ and the WH Military Office?". Expect more calendars, other documents and, ultimately, removal of certain redactions in coming weeks and months. GAO will stay on top of these important developments and this critical issue.