GAO wrote yesterday about the D.C. Circuit ordering new Speaker of the House Kevin McCarthy to state his view on whether the House should be free from public scrutiny of (i.e., continue to keep secret) the machinations behind the importation of donor-provided 'ringer' staff — off the books and in violation of House rules, incidentally —  to plot and execute the House Oversight Committee's targeting of political opponents.
The importance of the public's right to know was heightened once it became clear last year the House ethics bodies had swept the complaints about these revelations under the carpet.
In its Order, the Court also invited Speaker McCarthy to reconsider the sweeping anti-transparency position of his predecessor, Speaker Nancy Pelosi, as journalist Rob Schilling indicated to the Court seemed highly likely given Mr. McCarthy's public statements about increasing transparency and undoing her aggressive litigation stances.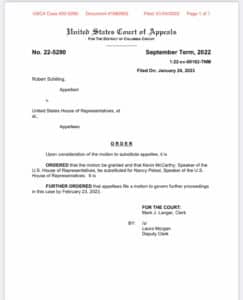 As GAO noted in its post, doing so would also fulfill numerous other key promises made by Mr. McCarthy in finally attaining the support of colleagues to become Speaker.
Not only did McCarthy say the following about one committee's notorious overreach, vowing to release the pertinent record because, well, serious allegations were made and the public deserve to know if the facts bear those charges out:
"You have spent a year and a half and millions of taxpayers' dollars conducting this investigation. It is imperative that all information collected be preserved not just for institutional prerogatives but for transparency to the American people… The American people have a right to know that the allegations you have made are supported by the facts."
Mr. McCarthy also pledged in a statement, "The House will no longer be taking hyper-politicized stances in amicus curiae or in litigation…The American people elected this majority to hold this administration accountable and to protect this institution."
"Mr. McCarthy didn't say what sorts of cases the House would get involved in under his new approach, but new GOP committee chairs have laid out an expansive oversight agenda that will likely involve repeated clashes over access to documents and witnesses from the Biden administration."
So imagine GAO's surprise yesterday when Speaker McCarthy filed a motion with the Court affirming he "fully support[s]" his predecessor's arguments keeping this ugly episode from public scrutiny under the Common Law Right of Access to federal records.
The new leadership claims a desire to reform the House's stance in litigation and activism, and to be more transparent. It appears this does not extend to its stance in litigation seeking to bring about such transparency over certain parties bringing in donor-provided activists to run investigations (plainly in violation of the self-governing body's rules).