Within hours of Energy Policy Advocates filing suit against the Minnesota Office of Attorney General this morning (noted by GAO at 10:40, here), in part over a missing contract hiring an outside law firm to sue energy companies for climate change, the Minnesota Office of Management and Budget provided the group with the contract in response to an outstanding records request.
To no one's surprise, lawyers stand to make a fortune off of what the Attorney General claims are the taxpayers' damages.
What is particularly strange is this following attestation by AG Ellison, given that Michael Bloomberg's group provided him with not one but two privately hired attorneys to prepare and file this suit on which they've been working full-time, according to a remarkable and troubling boast of inside knowledge by one activist close to "Special Assistant AG" Leigh Currie.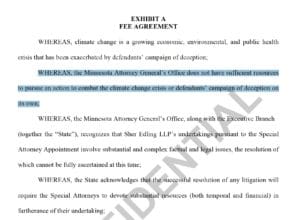 One would think that, with the taxpayers financing a top-10 sized law firm in the state and at least one major political donor providing more, let's say, targeted resources to pursue ideological priorities, that might be enough. Now, what else is going on to bankroll these suits?
Read the entire document here.