The below image is from a recent document production in Government Accountability & Oversight, P.C. v. Board of Regents, an open records suit confronting UCLA Law School's role in the advocacy industry, specifically through its Emmett Institute on Climate Change & the Environment. It is an email thread among the Institute's Andrew Sabin Chaired professor Cara Horowitz and Andrew Sabin, copying Dan Emmett. Horowitz updates Messrs. Sabin and Emmett that she is coordinating on talking points for Sabin's meeting with the Trump EPA in opposition to the Pebble Mine, with Columbia Law School's Sabin Center Executive Director Michael Burger (who, like Emmett Center's Ann Carlson, also has joined the climate litigation industry as a consultant to "climate nuisance" plaintiff's lawyers):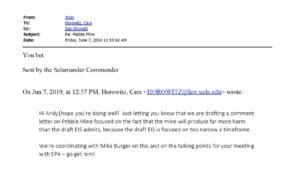 This adds some interesting context to a high-profile battle to stop the mine from being permitted.
The New York Times calls Sabin "a precious metals magnate and Trump donor." Sabin's Sabin Metals. Corp. recovers precious metals like palladium, gold and silver. Pebble would produce more palladium, gold and silver. This presumably would impact the price of those metals. Less scarcity seems to be something that would impact Sabin's business.
There is no indication which EPA official(s) Sabin sought to influence against the mine. Sabin seems to think lobbying the Trump administration has led to a reversal back to the Obama EPA's position, blocking the mine's owners from developing their property: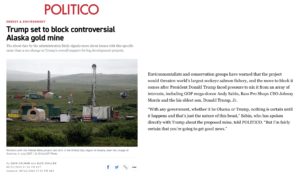 This thread is pregnant with suggestions about donor-financed centers at universities being helpful to donors. Their use in general — and the Harvard and UCLA Emmett Centers' use specifically — is already a subject of scrutiny thanks in part to moments such as these: