"1001" Reasons Congress Needs More Information
A timeline of events surrounding Elizabeth Klein's appointment as Senior Counselor to the Secretary of the Interior sheds some light on the Department's ethical lapses and raises even more questions.
January 21, 2021  Elizabeth Klein, recent-former Deputy Director of the Michael Bloomberg group created to plant activist attorneys in state AG offices to, among a very few other things, file suit against federal agencies including the Department of the Interior, joins the Department of the Interior, per Klein's LinkedIn page.
April 24, 2021  WaPo reports that bipartisan Senate opposition has scuttled Klein's expected appointment to be Deputy Secretary of the Interior.
May 25, 2021  House Natural Resources Subcommittee holds a hearing at which Klein testified and during which the following exchange occurred:
Representative Boebert: Ms. Klein, the White House pulled your potential nomination to be the Deputy Secretary because your conflicts of interest were so severe that you faced bipartisan opposition. Has the ethics office at the Department provided you with a recusal list? Yes or no.
Ms. Klein: Thank you for that question. Yes, I have been consulting on an ongoing basis with our ethics officials and am taking my responsibilities and ethics requirements seriously and I have an ethics agreement that I operate under.
Representative Boebert: So, you have been provided with a recusal list. Who and what matters are you currently recused from and would you provide the Committee with that full list?
Ms. Klein: I am happy to provide the list.
(emphasis added)
June 3, 20201 Reps. Westerman, Gosar and Boebert send letter to Klein/DoI reminding them of this exchange and the promise to produce, noting there has been no production, and requesting records by COB June 10, 2021. These include:
A copy of Ms. Klein's signed ethics pledge.
A copy of the information Ms. Klein provided to DOI's Ethics Office describing her work at SEEIC.
A document describing the role and responsibilities of the Deputy Director of SEEIC during Ms. Klein's tenure in the position.
A document listing the regulatory challenges supported or advocated by SEEIC or its legal fellows.
A document listing the matters and actions on which Ms. Klein advised or supported through her work at SEEIC.
A document listing the decisions, deliberations, and actions that include Ms. Klein's participation as a DOI employee from January 20, 2021 to June 2, 2021.
June 4, 2021 DoI provides Klein with "Ethics Guidance on Recusal Obligations", "supplement[ing] and replac[ing] the interim ethics guidance on recusal obligations provided to you in earlier draft memoranda".
June 5, 2021 (Saturday)  Klein provides a signed and dated (that day) "Ethics Recusals & Screening Arrangement" stating, inter alia, "this memorandum fulfills the requirement established in Section 4(a)(iii) of Executive Order 13989 entitled, "Executive Order on Ethics Commitments by Executive Branch Personnel" (Jan. 20, 2021) (Ethics Pledge)."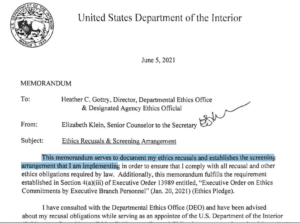 June 10, 2021  DoI writes to the Committee to provide these documents, seemingly affirming in its cover note that Ms. Klein had no ethics agreement in place at the time she testified that she was operating under an ethics agreement. This raises concerns, particularly given 18 USC §1001 (which sets forth criminal penalties for providing false information to the U.S. Government).
May 28, 2021   Days after Ms. Klein's appearance, United States District Court for DC Judge James Boasberg schedules a hearing for June 4, 2021 on Energy Policy Advocates' (EPA) motion for a preliminary injunction to compel DoI to release Klein's ethics recusals letter and related documents, under a federal FOIA request and lawsuit filed by EPA.
At the hearing Judge Boasberg orders the case to proceed under an expedited briefing schedule, moving it forward on the calendar by many months.
This makes Ms. Klein's ethics records, including any pledge in effect on May 25, 2021, and all back-and-forth in preparing any ethics and recusal agreement and other related documents, subject to a federal court's order for expedited consideration.
As such, regardless of any follow-up legislative oversight, further records informing a conclusion about this testimony should become available in coming weeks.