This email dated two days before the Biden inauguration comes to us courtesy of government-transparency group Energy Policy Advocates, which obtained the doc in Freedom of Information Act (FOIA) litigation with the Biden State Department for certain records about "Special Climate Envoy" John Kerry's ethics, disclosure, and recusal paperwork.
State produced to EPA a tranche of documents which appear to be mistakenly released here and meant for someone else. But it also at long last began its grudging effort to comply with the FOIA request with 16 pages of heavily redacted emails (fully half of them completely redacted, "white page" redactions in full). One of the partly withheld emails caught our eye.
Kerry came in to this ad hoc position (circumventing confirmation) with a plan to "engage" Facebook on climate. :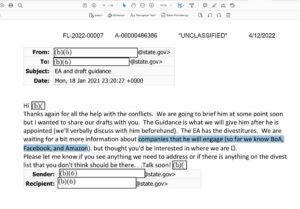 Thanks to FOIA productions we know that Kerry has a long record of very close collaboration with one of the worst of
the banks
on this issue, Bank of America, as SecState, to advance the climate agenda. Amazon, we know all about its Net Zero push.
But, Facebook, what ever could that possibly mean…
Ah, yes
…Facebook has an "independent fact checker" it alerts about climate realism that gets attention, one of the main tools being used to censor Lomborg, Koonin, Shellenberger, PragerU and others.