NHTSA is expected tomorrow to issue new global warming standards dictating what sort of vehicles Americans can drive. GAO is engaged in long-running public-records litigation with Carlson's employer from whom she took a leave of absence to perform this job, UCLA Law School (technically, Regents of the University of California).
That suit seeks certain records sent to or from Carlson and her colleague Cara Horowitz, famous for boasting to their Center's namesake and biggest donor about discussions at the "Secret Meeting at Harvard" for attorneys general and "prospective funders" of a coordinated campaign by activists/tort bar/law enforcement about using government to get their ideological way on climate:
Tomorrow's rules are the job Carlson was brought in to do.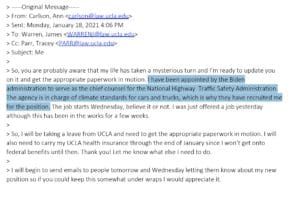 For context of where these rules are coming from, a little backstory on Carlson's appointment can be found in her leave documents here and here. Much more on her involvement with the climate litigation industry as a member of the trial bar's team can be found here. Related, required (but obviously quite belated) reporting filings signed the day before they were produced, citing work with both the tort firm and another group enlisted in the litigation campaign (Environmental Law Institute), can be found here.
Another curiosity recently produced by UCLA can be found here.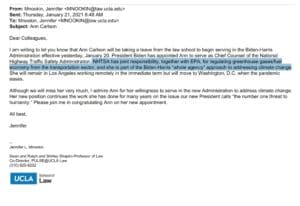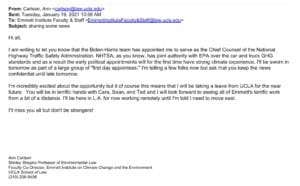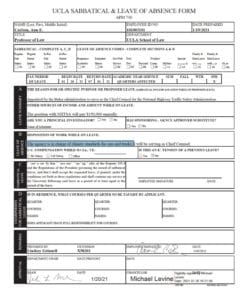 UPDATE: The Biden administration has nominated Ms. Carlson to run the Highway Transportation Safety Administration.
The emails responsive to GAO's Public Records Act request for  Carlson NHTSA Biden Administration (21-8746) can be found here, here, and here.
The emails responsive to GAO's Carlson Leave Records PRA request (21-8782) can be found here.
Records responsive to GAO's Carlson Outside Professional Activities PRA request (20-8525) can be found here and here.
Records responsive to GAO Carlson contracts + outside activity forms PRA Request (20-8590) can be found here.
A selection of interesting documents from these public records is here.